Tool Drawer Organizer: Key to Aircraft Safety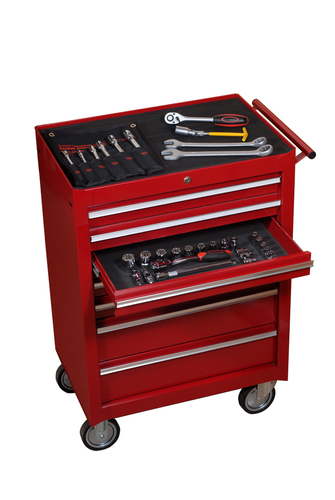 Having a proper tool drawer organizer system is essential for mechanics, whether they work on cars or on aircraft, in scheduled maintenance or preventive maintenance. A tool organizer is needed to keep track of tools and help mechanics know which tool is missing and thus reduce the chance of the missing tool causing foreign object damage (FOD) by falling into the moving parts of the engine. Aircraft maintenance personnel are provided with different tool boxes and drawers suited for storing all types of tools. This minimizes the clutter and helps avoid the risk of an accident caused  by lack of FOD tool control.
An aircraft tool drawer or tool organizer is for storage of various tools, whether it is a small or large tool. It is also useful in tracking which tool was not returned to its original position inside the tool drawer. As aircraft mechanics have a lot of work to do on the aircraft and some of these tools tend to be small, the aircraft company usually makes a way to organize their tools through the use of efficient drawers and organizers. A good tool organizer has casters attached to its base so that it can be moved around in the area where an aircraft is scheduled for maintenance or repair. Tool organizers are custom-made according to the aircraft owner's specifications.
A good tool box is made of sturdy plastic or metal and should be large enough to store each tool. These tool drawers are molded to have compartments and drawers for convenient storage of large and small tools. Tool organizers are fabricated, combining metal and plastic to meet the aircraft owner's specifications for his tool drawer. Tool drawer organizers have been made of many materials in the past: polypropylene, high-density polyethylene, stainless steel, acrylic, and other materials, but costs were high and there was little ability to make changes.  Now, PlaSteel has developed a  flexible, cost-effective way to organize a wide array of specialized tools to any type of tool drawer or box that is being used.   See  our Tool Control and innovative Buy Back Offer here.
It is essential that aircraft owners realize the importance of an efficient and sturdy tool organizer or tool drawer in aircraft safety.  FOD tool control will minimize the risk of foreign object damage or FOD on aircraft, making them as safe as possible.